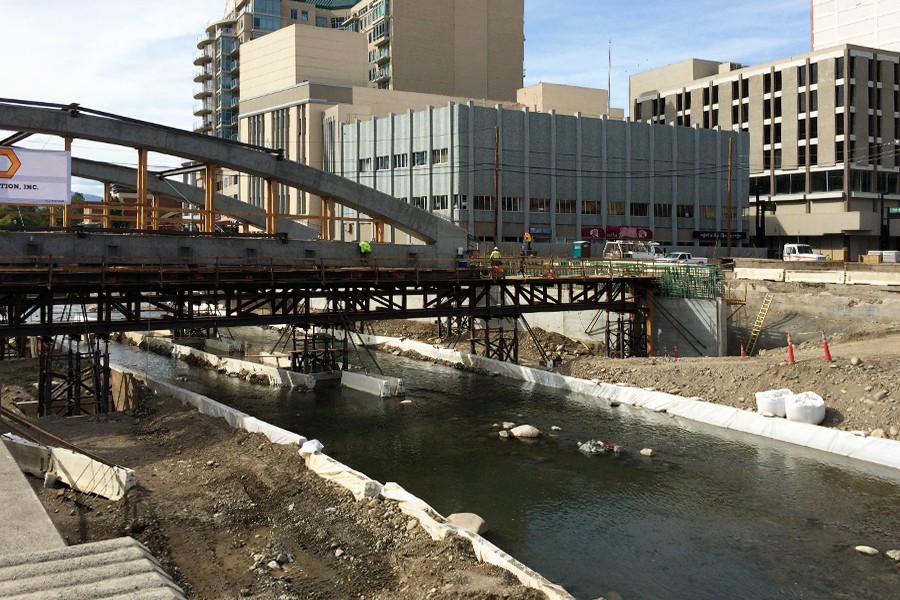 Watch in just 44 seconds what took four days!  Q&D crews moved the new Virginia Street Bridge into place over the Truckee River in Reno, Nevada.
But why build it this way? It looks more complicated than it has to be.
It was actually simpler, safer, more cost-effective, and faster to build the new structure in this manner. By creating a "casting yard" to one side of the river, workers were able to build the structure using simplified formwork. Because the work was at street level, teams were able to work on the concrete arch structure without scaffolding and on solid ground instead of 20-feet above a river. Both of those items also increased productivity and saved safety-related costs which added to the cost effectiveness and shortened the overall schedule of the project. The best benefit? We get the work done and return this short but critical stretch of Virginia Street (Reno's main downtown arterial) to normal then celebrate the new addition to the community.
The method was a result of a collaboration with the engineer of record, Jacobs, the City of Reno and Q&D Construction.  It's just our way – how can we get this done for less, maintain business-as-usual while we do it, and return things to normal as fast as we can. Learn more on our Virginia Street Bridge Replacement project page!