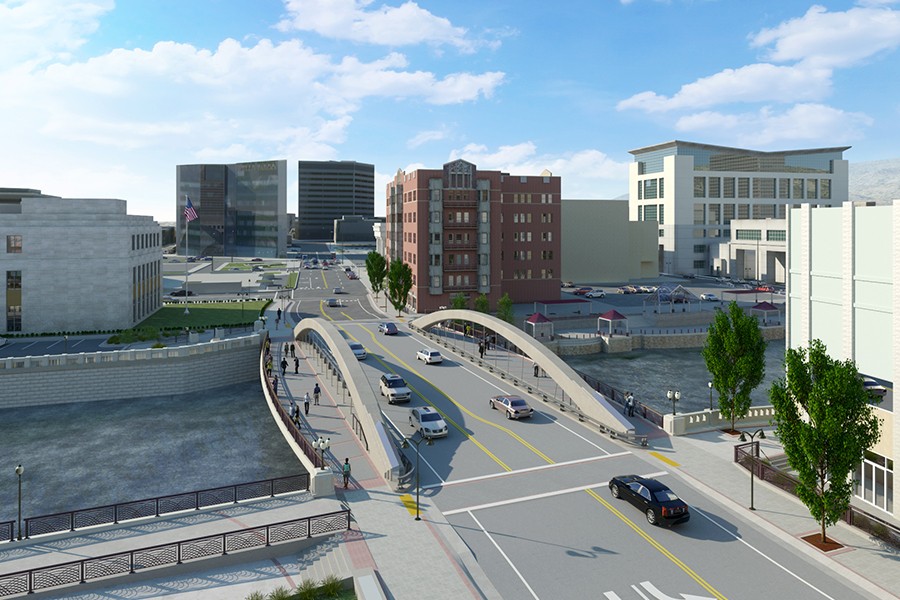 RENO, Nevada, April 16, 2015:  The iconic Reno landmark, the Virginia Street Bridge (VSB), will be undergoing a transformation. The structure, an earthen-filled concrete-arch bridge over the Truckee River in downtown Reno, NV, is listed in the U.S. National Register of Historic Places and is used by over 14,000 residents and Northern Nevada visitors every day.
But the bridge is showing the signs of its 110-year age. The bridge is also severe choke-point for the Truckee River, which means rehabilitation of the existing structure is not feasible. A new bridge is set to replace the older structure to ensure public safety, improve travel for pedestrians across the bridge and also make improvements to the Truckee River's flood capacity. The new design calls for a clear-span with concrete arch railing and bowstring truss support.
Q&D Construction has been selected and approved by the Reno City Council as the builder for this historic bridge replacement project. As a long-time Northern Nevada business, the employees and leaders of Q&D are very honored to be involved in the project. The company, headquartered in the Reno-Sparks area for over 50 years, has a positive reputation built on successfully managing and constructing critical infrastructure projects, with challenging regulatory constraints, high public visibility, within congested urban spaces and with multiple stakeholders. Q&D is known for working collaboratively with the community to plan and execute a smooth project for the public and for finding innovative ways to mitigate project risks and impacts.
The Truckee River is one of the most regulated bodies of water in the U.S. and Q&D's knowledge and expertise with environmental compliance during construction will serve the Reno-Sparks community well. Q&D has in the past worked together with many of the VSB project stakeholders, building projects that are components of the Truckee River Flood Management Project like the VSB, including the North Truckee Drain Realignment in Sparks, NV and several restoration projects along the Truckee River between Sparks, NV and Fernley, NV on behalf of the Nature Conservancy.
The City of Reno and their project partners have put a lot of work into moving the project forward through design and funding. To celebrate their efforts and to kick off the project's construction phase, The City of Reno will host a Virginia Street Bridge Construction Open House on Thursday, April 30, 2015 from 4-7 p.m. at City Hall.
Gallery