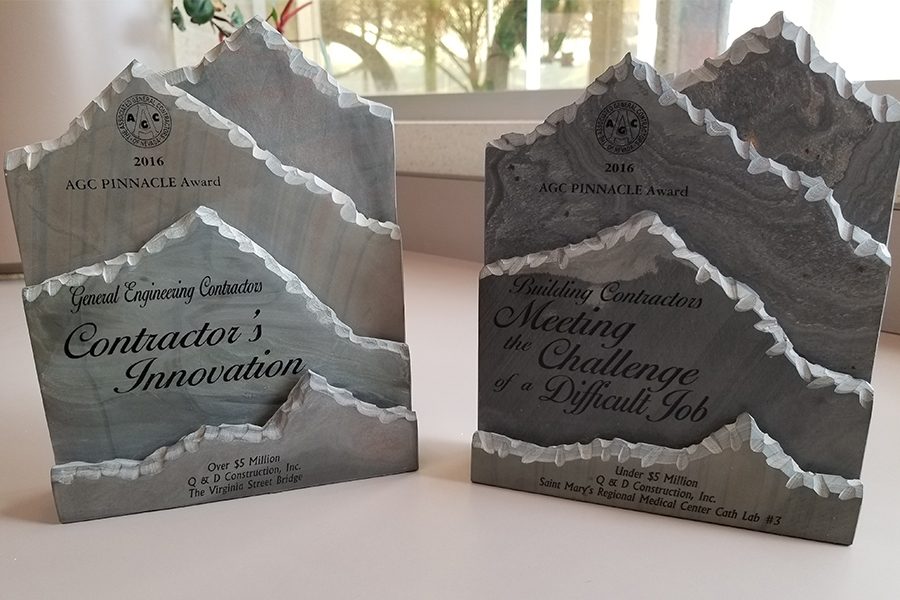 Q&D was honored today at a celebratory luncheon by the Nevada AGC for work on the Virginia Street Bridge Replacement and the Saint Mary's Cath Lab. Per the AGC, the PINNACLE Awards program was established in 1999 by the Nevada Chapter AGC to honor the "Best of the Best" in Northern Nevada construction projects, recognizing construction leadership, excellence and community spirit.
The Virginia Street Bridge
The Virginia Street Bridge was awarded the Contractor's Innovation Award for over $5 million.  This project was also chosen out of all projects submitted to win the People's Choice Award. It's the People's bridge!
Innovation paved the way to the success of the Virginia Street Bridge.  Consulting with a noted accelerated bridge construction expert the team identified this bridge as a candidate for an innovative bridge "slide." The Q&D team offered significant schedule savings with their bid, planning to use an alternative means-and-methods approach on this design-bid-build delivery project. Learn more about this approach and see the bridge in action.
Saint Mary's Regional Medical Center Cath Lab 3
Saint Mary's Regional Medical Center Cath Lab 3 was awarded Meeting the Challenge of a Difficult Job Award for under $5 million.
During this project, the schedule was one major driver and challenge – with the need for the adjacent rooms (OR's, ICU and other cath labs) to remain in service at their max capacities during construction and equipment installation. Construction was phased to allow the neighboring acute care areas to remain in operation. You can read more about the difficult challenges the team faced and how they solved them here.