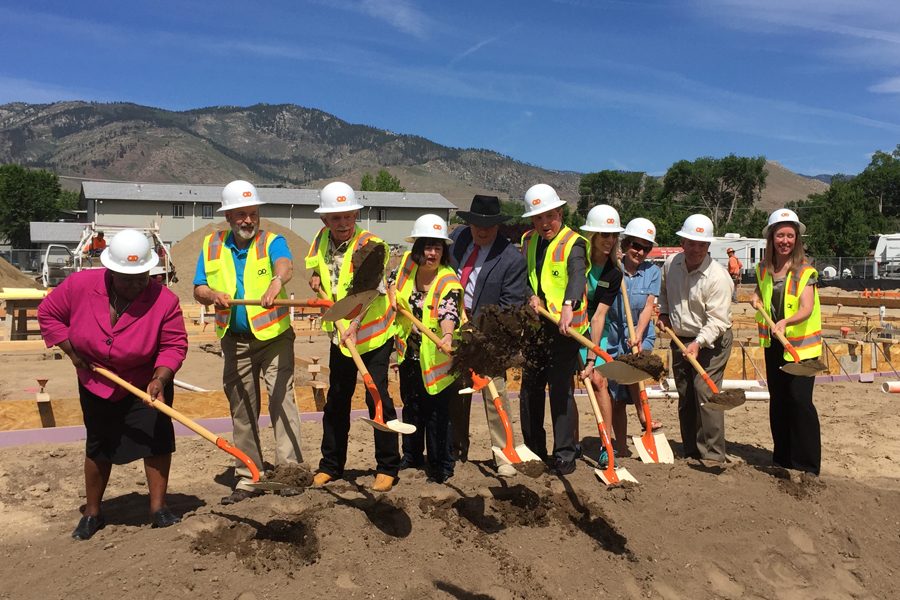 Nevada Rural Housing Authority Breaks Ground on Richards Crossing Housing Facility in Carson City to Benefit Homeless Veterans
Carson City, Nev. (June 08, 2016) – Nevada Rural Housing Authority in conjunction with several other backers broke ground on the Richards Crossing housing facility in Carson City to benefit homeless veterans. The complex will be located on Jeanell Drive near the corner of N. Carson Street and Winnie Lane.
Richards Crossing will feature eight apartment units reserved for chronically homeless veterans that will be paid for in full thanks to The Veterans Administration, with an additional 31 units available prioritized in the order of veterans, disabled individuals, and the general homeless population.
In addition to providing shelter, the Richards Crossing facility will provide resources to those living in the facility to aid in keeping the homeless off the street, including on-the-job training, life skills coaching and other supportive services.
"We are so pleased that in the spring 2017, we will offer housing and additional aid to those who served our country and are in the most need," said Gary Longaker, executive director of Nevada Rural Housing Authority. "Richards Crossing and its unique combination of housing and resources can truly transform lives for the veterans it serves."
Friends in Service Helping (FISH) secured the land donation from longtime Carson City businessman Garth Richards, for whom the facility is named, and began working with area stakeholders to develop a plan to ensure housing needs would be met for low income permanent housing for veterans.
"The groundbreaking of Richards Crossing has been a long time coming and is the result of the hard work and partnership of many community organizations," said Jim Peckham, Executive Director of FISH. "This facility will serve the needs of the Carson City community for many years to come."
Partners of Nevada Rural Housing Authority that made the groundbreaking for Richards Crossing possible include Nevada Housing Division Low Income Housing Tax Credit Program, U.S. Department of Housing and Urban Development HOME Program through the Nevada Housing Division and Community Development Block Grant through Carson City, The Richman Group Affordably Housing Corp., American Express and Wells Fargo Community Lending and Investment. The land on Jeanell Drive for Richards Crossing was generously donated by longtime Carson City businessman Garth Richards and his family. The development team consists of Jeanell Drive Associates LLC, Nevada Rural Housing Authority, Nevada Rural Housing Inc., Friends in Service Helping, Q&D Construction, Stephen E. Harriman, and Praxis Consulting Group, LLC.
About the Nevada Rural Housing Authority The Nevada Rural Housing Authority creates hope for the future by providing a full range of housing programs that help build and sustain independent communities. They provide an innovative home financing program, rental support, and needs assessments to Nevada's fifteen rural counties and the rural portions of Clark and Washoe counties, with a coverage area including 110,000 square miles and more than 1.3 million people. For more information, visit www.nvrural.org.
Gallery