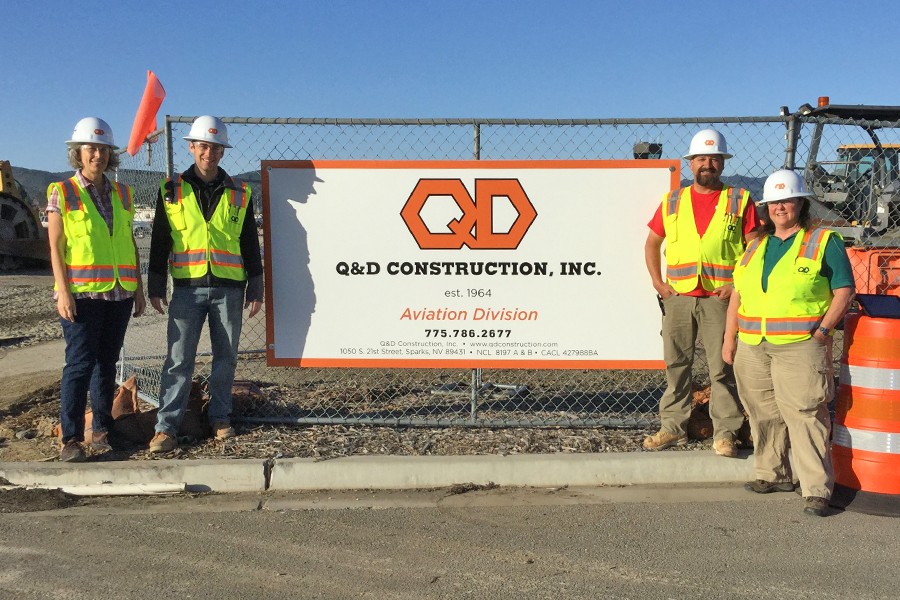 Check out our great San Luis Obispo project team!
Q&D is constructing the New Terminal Project at the  San Luis Obispo County Regional Airport in San Luis Obispo, California. The project, a two-building, 48,500-square-foot facility, includes: ticketing lobby, baggage claim, passenger and baggage screening, toilet rooms, administration offices, support areas, waiting lounges and boarding areas as well as site improvements and airport apron construction.
"Airport construction is a real specialty," remarked Duane Boreham, Vice President of Q&D's Aviation Group.  "On any size of project, aviation construction management involves intense coordination physically, with standards, utilities, complex security screening equipment and conveyance equipment. Where Q&D can really help is with our knowledge of the regulatory processes and how they impact the procurement, jurisdictional approvals, testing and overall sequencing."  Boreham continued, "We are pleased that Q&D's understanding and familiarity with aviation construction will really benefit the SLO team on their project."
Q&D is the builder on the $27,500,000 project, working alongside SLO Airport, San Luis Obispo County and design team leader RS&H.  The new terminal will replace an existing aging and non-compliant facility and is designed to accommodate economic growth and increased tourism in the County, to further connect the community with major metropolitan areas and to continue to service the Cal Poly university campus.  The project will be completed in June 2017.