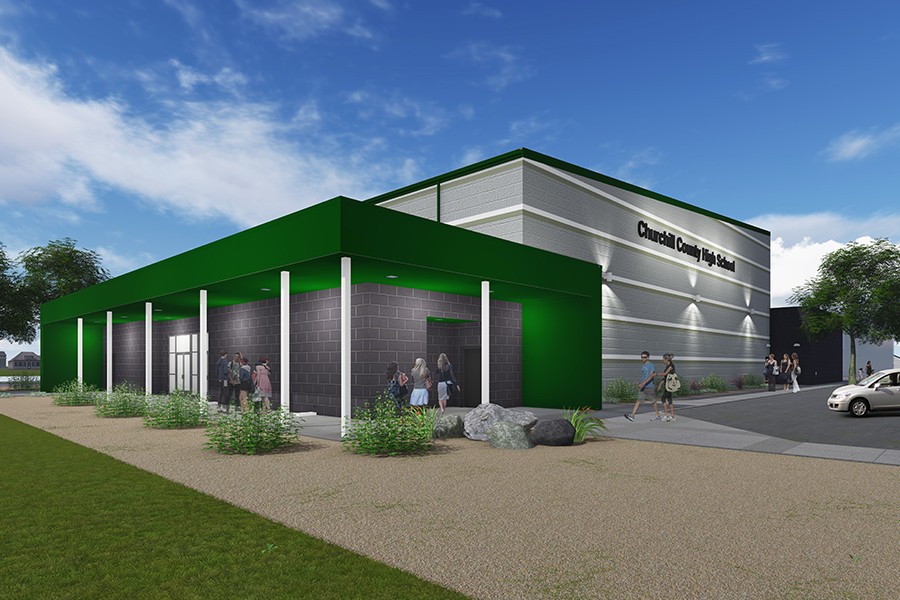 The Churchill County School District trustees were informed about the progress on the new auxiliary gym at their latest meeting.
Construction Manager Paul Eskeldson said Q&D Construction, the construction manager at risk (CMAR), has made major headway with the project to get things moving. He said so far, the CMAR has installed the underground utilities, tied rebar and poured concrete for the footings, laid the first two courses of concrete block walls to form the stem wall, prepared the vapor barrier and base for the slab of the gym floor and public restrooms and poured the first sections of concrete floor slab.
"Q&D has scheduled the structure of the building to be completed in two phases," he said. "The first phase focuses on the gym and the public restroom area and the second phase, includes the wrestling and locker rooms."
Eskeldson said construction of the masonry walls will require scaffolding and the use of a forklift for the materials as the walls get higher. He said the concrete floor slabs around the gym need to be delayed to a second phase to avoid damaging them while the gym walls are being constructed. "Construction of the masonry walls will run until the end of November," he said. "Steel trusses over the gym will be set in late October, and the rest of the steel completed by early December."
Q&D plans to have the structure completed and weather-tight by early January, with project completion scheduled for the second half of March and paving by A&K Earthmovers may be delayed until spring break – depending on weather, he said.
Eskeldson said Ted Ott's construction trade classes have toured the construction site when the footing was being poured.
"I talked about construction safety and reviewed the floor plan of the building before we proceeded to the construction site," he said. "Mr. Ott and I talked about the differences in construction methods for a large commercial project compared to the techniques they are learning for construction of the student house."