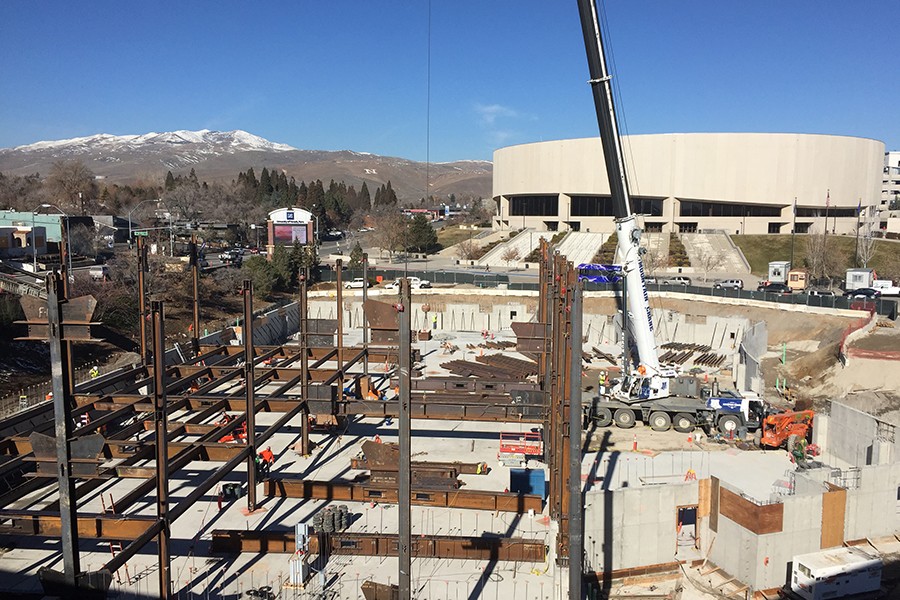 There's a lot of activity to see now at the UNR E.L. Wiegand Fitness Center project – the foundations are poured and steel installation has begun!
As the CMAR, Q&D delivered the guaranteed maximum price (GMP) to UNR for this project, the culmination of 14 months of budgeting and planning on this high-profile project with a large number of stakeholders.
At the start Q&D estimators set out to prepare a detailed estimate based on early conceptual drawings, providing the level of detail needed to make that budget the "sounding board" for the team – a guide against which they could gage all their design and construction decisions. Through the project team's collaboration, the client uncovered needs that the concept didn't include like an underground parking garage, a new chilled water system tie-in, adjacent street upgrades and infrastructure upgrades for the campus. The team worked closely together to incorporate these items through a combination of value-engineering and added funding.
Q&D's team worked diligently alongside the design team to provide a set of value engineering ideas and an updated, open-book estimate at each design milestone to align the design with the budget. Each idea was evaluated and discussed together as a team and the final decision was documented. Over $2,000,000 in value engineering was accepted over the course preconstruction. The result is a GMP, competitively bid to subcontractors with complete transparency, which is just under the budgeted amount.