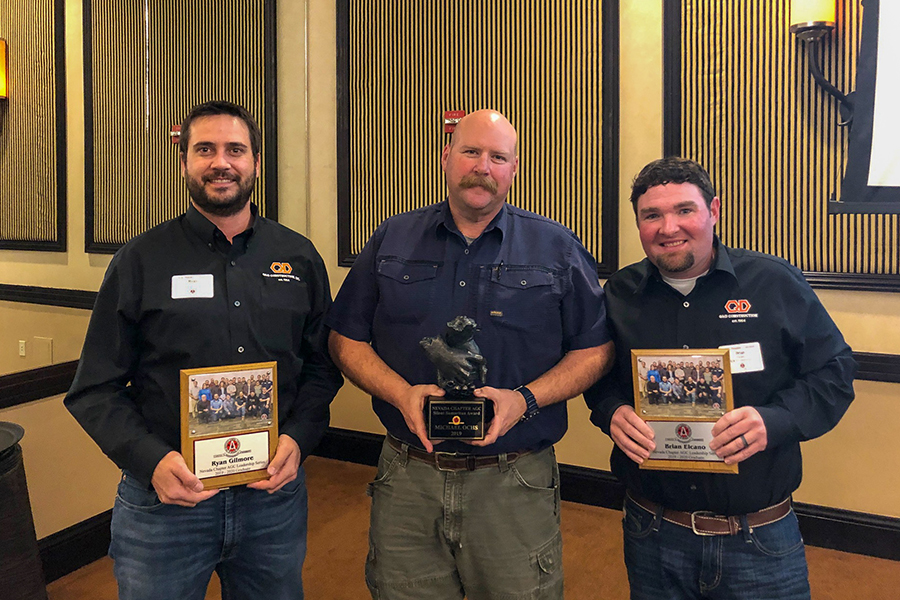 Congratulations to Q&D's Safety Director Michael Ochs on receiving Nevada Chapter AGC's Silent Samaritan Award! Also pictured are Q&D team members Ryan Gilmore and Brian Elcano that attended a graduation ceremony last week for AGC's Leadership Series program!
More about Michael and his award:
As you'd expect, a job managing safety for nearly 600 workers who together put in over 1,000,000 hours per year requires a commitment to construction workers and site safety that extends beyond the regular work day and week. In addition to his demanding responsibilities for Q&D, Michael volunteers his time outside of work at the North Lyon County Fire Protection District working as a fire-fighter, first responder and fire awareness instructor for the community of Fernley, NV.
He sets an example for our people, works hard on our behalf, uses his expertise to solve our challenges and, outside of his duties for us, he gives more of himself to others by serving his home town. Sometimes he arranges time off at Q&D so he can work full time for North Lyon County when their permanent team members are called away to help other communities that need extra personnel to deal with catastrophes. So Michael works a full shift at Q&D and then works many of his weekends and some of his vacation days as a fire fighter and ambulance driver in his home town. That's an amazing commitment and we commend him for his dedication and community service.
Michael also demonstrates further commitment to sharing his time and skills with others in his work with Q&D. Since joining us, he studied for and passed his certification exam, renewing his national accreditation as an emergency medical technician. He has added abilities and skills for our company and he will be able to offer more to serve his home community. He has demonstrated leadership in organizing the 1st Responders course at Q&D which educates our Site Safety Officers and Superintendents in triage and advanced first aid care.
Michael sees both the people of Fernley and the team at Q&D as part of his family. He cares about others and gives his time and skill selflessly and silently. He does it while not expecting any award. He simply wants his community to be a better place.