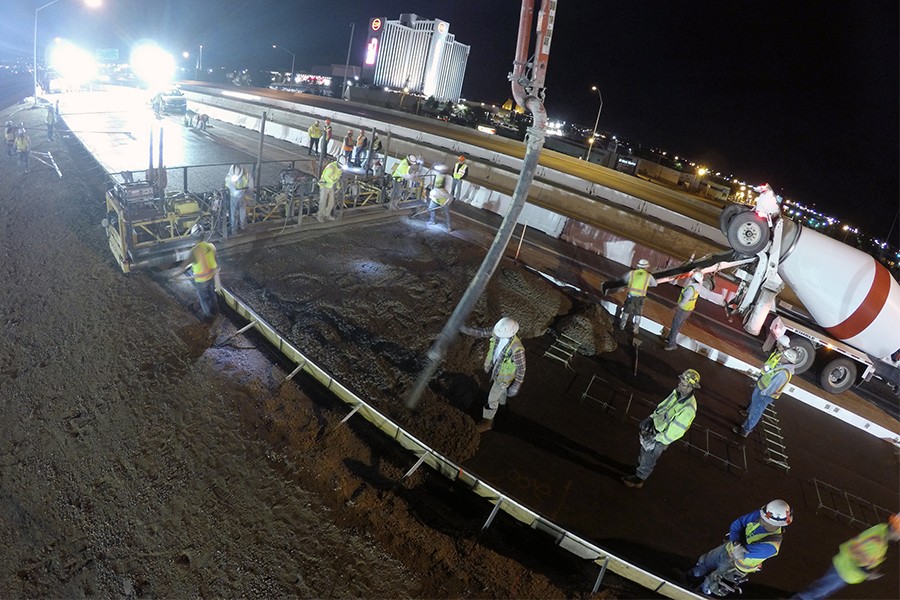 Q&D crews are pouring new concrete travel lanes along I-580 in Reno between the "spaghetti bowl" and Moana Lane.  The $12,100,000 project will replace concrete roadway slabs that were last constructed more than 30 years ago.
During a recent night's pour, the boom cam caught this great shot of the team action required to successfully pour a level surface on a major arterial.  This pour involved 850 cubic yards of concrete and was the first pour of the project.
You may see the new lanes sitting idle for a while and wonder why they aren't opened up to traffic. Because concrete involves a chemical reaction, it needs approximately 30 days to cure, so there are strict rules on when you can begin to allow weight on the surface. Using quality control methods, testing and independent review, concrete is tested for strength against the specifications and once it has reached the required strength, the completed roadway section can be used for travel.
Crews work at night to lessen the impact of operations on traffic.  When the project is done, the noisy, bumpy and cracked roadway will be a smooth ride!
NDOT produced a video to explain the project, you can watch it here: