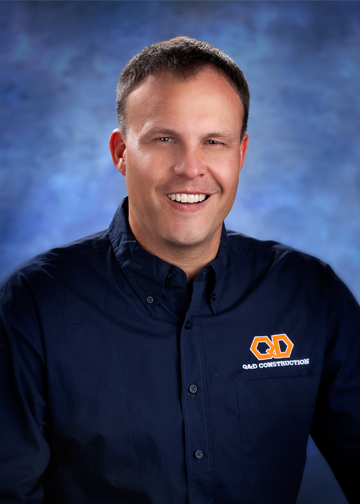 RENO, Nev. (June 9, 2014) – As the company celebrates its golden anniversary, Q&D Construction announces the promotion of Senior Project Manager Toby Basta to Vice President of the Building Division. In his new role, Basta is responsible for oversight of all group elements, specifically, expanding Q&D Construction's commercial building project and custom homes catalog by utilizing his experience managing numerous high-profile projects in Reno-Tahoe and across the West.
Basta joined Q&D Construction in 2006 with nearly 10 years' experience in the carpentry and construction industries. As a project manager, his first undertaking was the 300,000-square-foot, eight-story Ritz Carlton Lake Tahoe and its four-story parking garage. The highly-complex concrete superstructure led to more than $100 million in commercial projects for Q&D Construction over the next seven years including The Outlets at Legends, which led to an opportunity to head up construction on two Scheels All Sports stores in Utah and Montana, respectively.
A graduate of Reno High School, Basta went on to receive a bachelor's degree in English from the University of Colorado and a Master of Science in Construction Management from the University of California, Berkeley. In addition to his experience and academic credentials, Basta is a Leadership in Energy & Environmental Design (LEED) Accredited Professional, and is Building Information Modeling (BIM) and Occupational Safety and Health Administration (OSHA) Certified. He is also a graduate of the Associated General Contractors (AGC) Leadership program.
"Toby's portfolio of experience along with his extensive education in construction management and innovation is an ideal combination to help Q&D usher in the next wave of vertical construction development," said Chief Operating Officer Lance Semenko. "Toby is a great example of Q&D's dedication to excellence at every turn, whether it's tenant improvements or a multi-million-dollar project. We are proud of Toby's hard work over the last eight years and look forward to seeing all that he will accomplish in the future."
For more information on Q&D Construction, visit www.QDConstruction.com or call 775-786-2677.
Q&D Construction is a 12-time winner of the "Contractor of the Year" award by the Nevada Chapter of the Associated General Contractors. It specializes in commercial building projects both large and small across the nation; general engineering including bridge construction and reconstruction, and commercial recycling; public and private infrastructure such as northern Nevada's Prospector Pipeline and the Moana Lane Widening and Reconstruction Project; and custom contracting including the Ritz-Carlton Lake Tahoe, Tranquility at Lake Tahoe and the Assumption Church in Truckee, Calif. Q&D is also heavily involved in the Contractors Auxiliary, which provides emergency contractor services to victims of natural and other disasters.