JEFF BEAN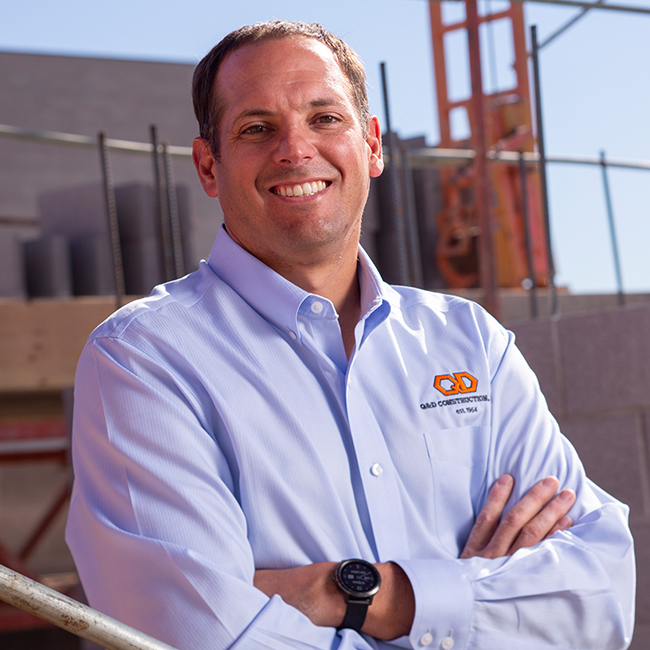 VP – Heavy/Civil Group
Phone
(775) 786-2677
E-Mail
jbean@qdconstruction.com
Jeff oversees the day-to-day operations of Q&D's Heavy/Civil Group, leading bidding efforts and overseeing work on hand. He leads preconstruction efforts for general engineering projects at Q&D, contributing to constructability and project strategy. Throughout construction, he ensures goals for quality, budget, and schedule are met.
Taking a no-nonsense approach to team-building and looking at all aspects of the challenges of a project, Jeff believes that the unusual or untested approach needs to be considered and all team members are encouraged to contribute.
With a BS in Civil Engineering and a Masters in Business Administration from University of Nevada, Reno, Jeff has the skills required to get the job done right.
Jeff has been a part of the Q&D team since 2003, signing on as a Project Manager/Estimator during northern Nevada's most recent development boom. Since then, he has developed a track record for leading successful, large-scale and technically complex projects, and for completing them ahead of schedule and within budget. Jeff uses innovative approaches to save cost and time for his clients. In the past several years he has been key to the development of CM at Risk approaches and teams for NDOT, RTC and regional utility clients seeking partnership from their general contractor as part of the larger project team.
Taking on some of Q&D's most challenging projects has allowed Jeff's talents to shine. He helped steer the award-winning Golden Eagle Regional Park project in Sparks, NV to an amazing 3.2% savings on what was at the time the largest turf installation in the U.S., a $22,000,000 project. Proof of Jeff's innovative approaches to projects include the award-winning Hawthorne Utilities Rehabilitation, during which Q&D's teams replaced every sewer and water supply pipe and connection in the Hawthorne, NV using an effective technique called "pipe-bursting" to reduce trenching. He was part of the team that invented the new polymer paving machine used at Q&D to repair bridge overlays which increases production during critical shutdowns required for this work
Jeff is actively involved in the AGC and is a member of the ACE Charter High School Board of Directors.
Jeff lives in Reno with his wife Summer and their child. Together they enjoy the northern Nevada lifestyle, supporting and watching Wolf Pack sporting events, hanging out at Lake Tahoe, skiing, hiking biking and running.