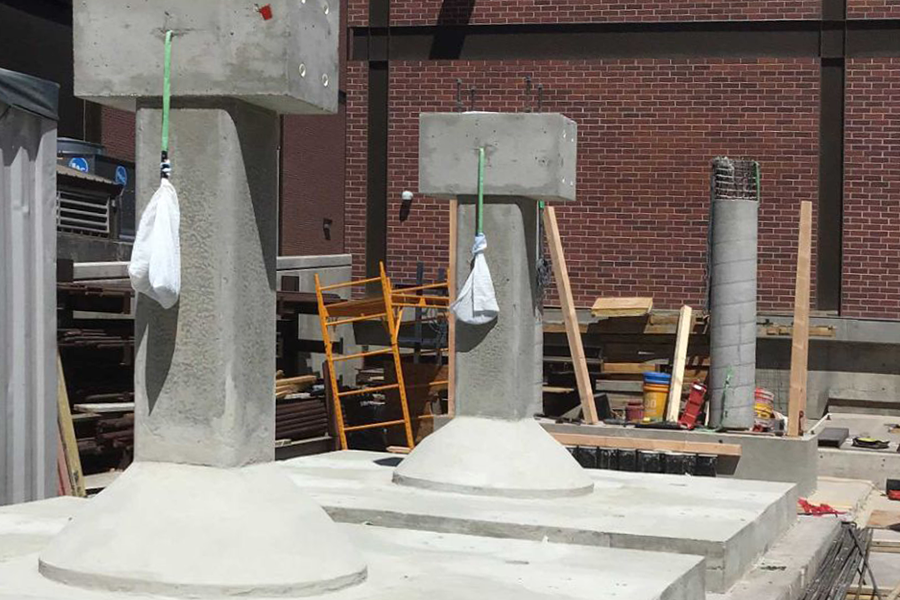 The concrete team built three column/capital and footing specimens for UNR's bridge design and testing program at their Engineering Earthquake Laboratory. The concrete specimens have some unique geometry; the base of the capital is circular, 3-foot-2-inch-diameter, and slopes inward over 7 inches in height to transition to an 18-inch-square column. After curing, each will be tested for lateral strength.
The forms for the capital section were cut with a water jet from 28 quarter-inch sections of plywood and stacked to form the 7 inch Transition section. UNR attached multiple sensors to the rebar cage and required rebar to be placed with a 1/16-inch tolerance. These sensors will measure loads when tested and give the University data regarding this design. The column portion will be wrapped with carbon fiber prior to testing by our specialty division.
We received kudos of a job well done from Suiwen, a Post-doctoral scholar at UNR's Department of Civil and Environmental Engineering.
"Thanks Q&D for helping construct the specimens. Everything has been done in high-quality and in a timely manner. All of the persons are of high-skill and extremely great patience. We really appreciate the great expertise, patience, and high-quality work. I am looking forward to cooperating with you in a few months for construction of the phase II specimens."