History
Numerous things have changed since Norm Dianda inked Q&D's first building contract for a kitchen remodel in 1964. Back then, the "contract" actually consisted of a few napkin sketches and a handshake over a pasta dinner.
Although the truck Norm borrowed from his dad and the original home office in Norm's garage are gone, the foundation of Q&D remains the same today.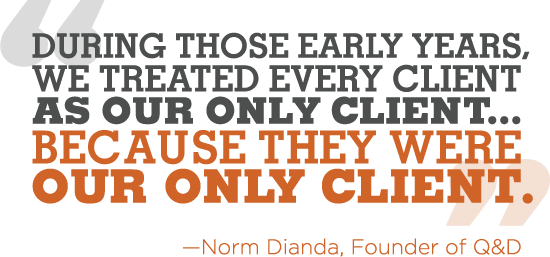 "We treat every client as our only client and always deliver on our promise of service, quality and integrity," says Norm. Indeed, Q&D has grown in response to the needs of our clients. "We didn't start Q&D with the intention of building a large company." says Norm. "We grew as a result of responding to our clients' requests to bring our particular brand of schedule-focused, professional construction management to other aspects of their projects."
In 1983, Q&D added the Heavy/Civil Group to work together with developers and public agencies to provide earthmoving, pad and utility construction. "When you are opening a new business, it's important to have the road to get customers in there completed on time for the grand opening," says VP-Heavy / Civil Jeff Bean. "Why put that in the hands of someone who doesn't understand your needs or feel as strongly about your opening day plans as you do? That's why we started Heavy / Civil, to offer our clients the choice of additional means to control cost and schedule."
In 1999, Q&D created a specialized team within the Heavy/Civil Group to focus on concrete structures for both building foundations and roadwork. "When we built the pad infrastructure and many of the shell buildings at the Summit Sierra Mall, that was a great example of the partnership among our internal groups and the skills of our specialized teams for concrete and paving," says Q&D's chief operating officer Lance Semenko. "Our client, Bayer Properties, relied on us to be responsive as they completed lease deals with potential tenants. It's hard to judge when negotiations would be complete; hard to schedule around that kind of thing. So having a team of both heavy/civil and commercial building professionals ready to support them and focused on their needs was critical to multiple grand openings."
In 2008, Q&D began the project that would launch the Aviation Group. "Reno-Tahoe International Airport was our first big partnership in aviation," says Duane Boreham, VP – Aviation Group. "Today it has a modern security checkpoint, efficient and fast baggage sortation, screening, and claim areas, a thriving expanded retail and concessions space, and updated finishes throughout. A big part of our success over the last 5 years working closely with the Airport Authority was the time we spent as a team during preconstruction, using the Construction Management at Risk (CMAR) delivery method to plan and put in place over $70,000,000 worth of work without impacting a single person's itinerary. We put that expertise and specialized understanding of the client's goals in practice every day now, at hundreds of airports around the U.S."
In 2014, Q&D celebrated our 50th anniversary, stronger than ever. "At Q&D we work with you to reach your goals and fulfill your needs," says Norm, "knowing that the purpose of construction isn't to build a road, a house or a building. It is for you to build a business, a lifestyle, a home or to improve a place for the public good."
Q&D's clients include Harrah's, St. Mary's Regional Medical Center, Southwest Airlines, University of Nevada, Reno, Scheels, Washoe County Regional Transportation Commission, Truckee Meadows Water Authority, Reno-Tahoe Airport Authority, United Airlines, Cashman Equipment, The Catholic Diocese of Reno, The Davidson Group, Washoe County, Scolari's, Nevada Energy, East-West Partners, Bayer Properties, Nevada Department of Transportation, City of Reno, City of Sparks and RED Development.
In May 2014, Q&D celebrated our 50th anniversary of our founding with a large-scale bash. From wagon wheel tables, oversize antler chandeliers and 400 yards of gauzy fabric, our large-equipment diesel mechanics shop transformed into a swank party venue. With friends, family and colleagues by our side, together we celebrated our enthusiasm for Nevada, the place where Q&D was born, and our love for this company.
Q&D Construction has navigated the boom and bust cycle of the northern Nevada economy for 50 years now, remaining steadfast in the face of tough times and growing steadily by listening to our clients, adding new services and expanding into new markets. In 2014, Q&D also made some changes to the company leadership, announcing the promotion of several key employees to oversee the day-to-day operations of the company. Both Chris and Mike Dianda took a step up from roles as Executive Vice Presidents to become Managing Directors, while Lance Semenko took over the position of Chief Operating Officer (COO).
Said company founder Norm Dianda of the change, "After 50 years in the business and watching my two sons, along with Lance, flourish together with the company, it's time for me to take a step back and let them do all of the things I've taught them to do. I want to enjoy more personal time with my family and allow these talented people to continue the legacy of what Q&D represents: service, quality and integrity."
In February of 2018, Lance Semenko, Jeff Bean, Duane Boreham, Toby Basta and Kevin Linderman joined Chris and Mike Dianda as owners of Q&D Construction.
"It's imperative that Q&D continues to provide the service, quality and integrity that our clients expect. Our company's reputation has always been staked on leaders capable of ensuring our success nationwide. In order to accomplish that, the next generation of ownership needed to come from within the company," said Chris Dianda, CEO & Vice Chairman of Q&D Construction. "Not only are these guys highly-skilled long-term team members and Nevada residents, they embody the values and principles that are core to Q&D."
With over 100 collective years in the industry, the new ownership team brings a diverse collection of skills and experience to the helm of Q&D Construction. University of Nevada graduate Lance Semenko will fill the role of company president while Wolf Pack alumnus Jeff Bean heads Q&D's Heavy/Civil Group. Yerington native Duane Boreham manages Q&D's Aviation Group and Reno native Toby Basta is vice president of the company's Building Group. Rounding out the team is Kevin Linderman, who oversees the operations and management of Q&D's major assets and equipment.
Key to this transition is the continuance of Q&D's long-standing stewardship of the community. Throughout its history, Q&D has partnered with local charities including the Boys & Girls Club of Truckee Meadows, the Food Bank of Northern Nevada, the Nevada Women's Fund, the Veterans Guest House, the Maison T Ortiz Youth Outdoor Skills Camp, the University of Nevada Foundation and the Reno Rodeo Foundation, among others.
Q&D Construction has helped build many of the structures, streets, highways, complexes and parks that thousands of Northern Nevadans and their families use on a daily basis, including the Moana Lane Expansion, the Mayberry Drive Reconstruction, the Mathewson-IGT Knowledge Center, the Outlets at Legends, Golden Eagle Regional Park, Bishop Manogue Catholic High School, the E.L Wiegand Fitness Center, Virginia Street Bridge and the Terry Lee Wells Nevada Discovery Museum.